31st Annual Air Works Consignment Auction
GPS Location: Mt Hope Auction Grounds; 8076 SR 241 Millersburg OH 44654
Thurs. Feb. 13th 2020 at 9:00 AM - 4+ Auction Crews
Fri. Feb. 14th 2020 at 8:30 AM - 15+ Auction Crews
Sat. Feb. 15th 2020 at 8:30 AM - 12+ Auction Crews
Heavy Equipment * Rolling Stock * Sawmill & Pallet Equipment * Logging Equipment * Power Units * Woodworking * Metalworking *Construction Tools * Misc.Tools & Equipment * Lots of Antiques, Collectibles & Primitives * Blacksmithing * Farm * Tools * Butchering * Cast Iron & More
Auctioneer Note: Thank you to all of our consignors and buyers for another successful Air Works Auction Event. We had 6000+ On-site buyers along with 6000+ registered online bidders. Contact us to work for you.
We are already working on next years event and are currently accepting pre-consignments on liquidations and collections. Get in contact ASAP if you are thinking about utilizing the Air Works Auction platform to sell your assets.
Consignment Unloading Schedule: Monday Feb. 10th from 8:00 A.M. to 8:00 P.M., Tuesday & Wednesday Feb. 11 & 12th from 8:00 A.M. to 4:00 P.M. Thursday Morning 7:30 to 12:00 (Reserved for out of state consignors)
Upcoming Auctions by Air Works Auctions...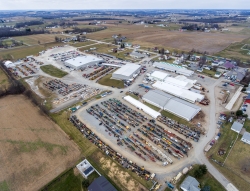 31st Annual Air Works Consignment Auction
Mt Hope Auction Ground, 8076 SR 241, Millersburg Oh 44654
Auction Date
February 13th, 2020 to February 15th, 2020