Welcome to the Air Works Consignment Auction!
Our next auction, the Fall 2018 Air Works Consignment Auction to be held Thursday, September 20th & Friday, September 21st. This auction is a full Air Works Consignment Auction event and will feature woodworking & construction equipment, heavy equipment & rolling stock, sawmill, logging & pallet shop equipment, metalworking equipment, antique tools & collectibles, and so much more!
For the first time, we'll be conducting multiple auctions inside the Mt. Hope Event Center concurrent with the fall Mt. Hope Showcase! This auction will feature a (1) warehouse closing liquidation of $750,000 worth of new tools, (2) liquidation of overstock, remanufactured, and unused hydraulic & industrial components, and (3) a large, private collection of hit-n-miss antique engines and collectibles.
Plan now to attend the 2019 Spring Air Works Consignment Auction in February. The three-day event features a growing antique tool & collectibles auction along with everything you've come to expect from the AW Auction team.
---
We are pleased to partner with Bright Star Auctions on the sawmill, logging & pallet shop equipment to bring you unparalleled product knowledge and service in the sawmill industry. As a team our goal is to provide our buyers and sellers with the ultimate auction experience!
Upcoming Auctions by Air Works Auctions...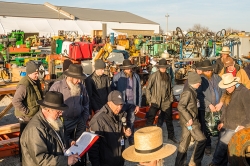 2019 Spring Air Works Consignment Auction
Mt. Hope Auction Grounds, Mt. Hope OH
Auction Date
February 14th, 2019 to February 16th, 2019